Commissions are currently CLOSED, I hope to reopen them in September! Have a great summer!
Immortalize your pet in style with a custom portrait! I love to draw animals of all kinds, from cats and dogs to birds and lizards.
Portrait Types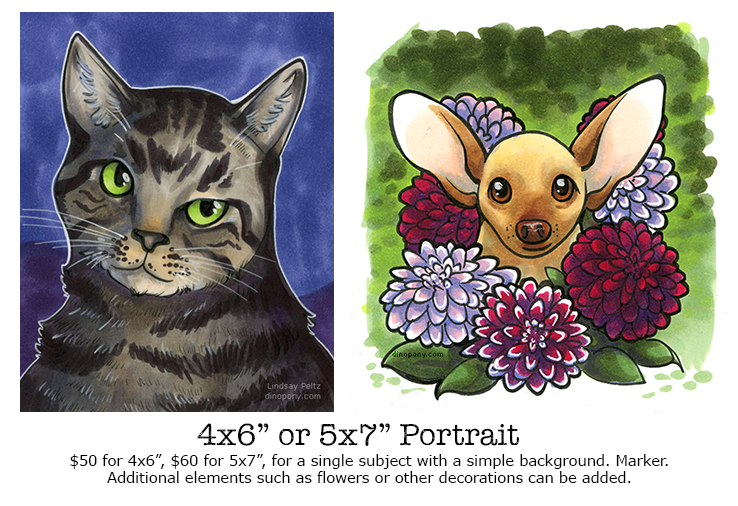 How it works
Decide what kind of portrait you'd like (see above) and send me a message
I'll draw and email you a sketch. If you're happy with it I'll send you an invoice, and once payment is received I'll get to work finishing your project!
When the portrait is finished I'll send you the image for approval. If no changes are required I'll email you a high-resolution scan of the image and a lower-resolution image suitable for sharing on social media. The original drawing can be mailed to you or, if you're local, picked up.
All that's left is to decide where your pet's portrait will be displayed!
What you receive
A digital file for suitable printing at a resolution of 300dpi
A digital file for sharing online at a resolution of 75dpi
The original illustration, mailed or picked up
Timeline
My current work time is at least two weeks, but no more than a month, from initial contact to finished project. If I have the time I may be able to put a rush on an order for a fee.
Privacy
Online privacy is important to me, and I'll make sure to respect yours as well! I do reserve the right to post in-progress and finished images online, but I remove all personal information such as names.
I will never post reference photos online unless I have asked for and received permission to do so, and I delete all reference images from my computer and email once the project is complete.
I am currently open for commissions!
Please make sure to review my terms of service, then send me an email to get started!